Digital transformation for the airport involves introducing practices and providing facilities to offer a better experience to all customers. It is about implementing and employing innovative technologies and integrating them with the current technologies.
Digital Transformation is a significant development which is affecting the airport business. It is not all about the introduction of new technologies, it also involves changing the business of airports, adapting to customers, staff, people of all cultures and developing existing and implementing latest technologies to fulfil aims and objectives. Digital transformation is now a core capability that is a must to fulfil the capacity demands of the future.
The main priority is obviously safety and security but efforts are being made to modernize the business and operations, for instance leveraging technology to meet and surpass aims and objectives. The power of data is phenomenal in these digital times, therefore it is better to harness its benefits in order to be successful.
There have been only two constant key drivers for change: a) to revolutionize the passenger experience so as to fulfill or exceed expectations of customers; b) to attain quicker, proficient and sustainable adaptation of service using the latest technology. In other words, doing better thing in better ways.
A thought-out digital transformation strategy is required to achieve this. Challenges are addressed by strategies and airports face lots of challenges including decarbonization, expansion, progress in aeronautical and non-aeronautical revenue, passenger satisfaction, operational efficiency, automation and staffing, and battling cyber and terminal security. The digital strategy has to deal with these challenges and recommend solutions for them. However, they also need to find out solutions to opportunities that were previously unforeseen and that can only be realized by digital technology.
Innovation and integration are the two interrelated high-priority areas that arise for review for IT and the business.
Why Are Innovation And Integration Important To Airport Digital Strategy?
Banking, telco, and energy and utilities can be considered as medium-to-high specificity. Even though innovation is of significance there but basic needs can usually be fulfilled using a wide range of mature, commercial off-the-shelf products. Solutions are usually built bespoke for a localized airport use case in the airport terminal environment and many landside and airside operational procedures.
The integration domain developed because it was needed for organizations to link their once purely business silo IT system developments. The need for integration increased with the increasing importance of IT to air travel. Now with the addition of digital transformation's cloud hosting concerns, plus the need to provide enterprise data to innovation projects, integration becomes significant for airports to get right, delivered to modern best practice.
As far as digital transformation in aviation is concerned, there are countless ways in which digital technologies can be used to develop the customer experience, improve efficiency and create more revenue. Adding some tech gimmicks into your customer journey does not mean there is complete airline digital transformation. The comprehensive digital transformations need a vision of the type of service you want to offer and a full-scale strategy for accomplishing this.
Below are the examples of five airlines that are introducing innovative and different visions for their digital transformation. There is no 'correct' and 'incorrect' version of digital transformation for airlines. What works for one company, might not work for another. However, these five cases show how leading airlines are redefining the limits of what can be achieved.
Air Asia Introduces Facial Recognition For Check-in
It is required to produce travel documents at numerous desks throughout the terminal and it is one of the most tedious parts of the airport experience. Customers can get on the flight only after visiting a check-in desk to get their boarding pass, present it at security and while entering the plane.
Malaysian Carrier Air Asia tried a different method. They started trialing FACES (Fast Airport Clearance Experience System) for internal Air Asia flights at Senai International Airport. It is the latest biometric identification technology which can be used to eliminate the requirement for travel documents at the gate, as well as at other security checkpoints. This is introduced as part of the company's airline digital transformation strategy which helped to makes the whole process of checking easier and stress-free for the customers.
Emirates Introduces Meal Ordering Device For Business Class
Restaurant waiting staff takes customer orders usually on gadgets like a smartphone or tablet. Emirates is introducing in-flight meal ordering using smartphones. A handheld Meal Ordering Device (MOD) is an app that is loaded onto a Samsung A7 smartphone which is used by cabin crew in business class. They can use it to take the passenger's drink and beverages orders on the go. It appears on a tablet in the kitchen area via the plane's WiFi system. Kitchen staff can prepare the food and drinks quicker and customers can get their orders quicker.
Lufthansa Uses Virtual Reality To Boost Upgrades
This airline uses VR headsets to show customers at the gate why the upgrade from economy to the premium economy is beneficial. Customers can see things like the premium economy cabin, the seats, extra legroom they can get if they upgrade and how it is worth the investment. This digital transformation in aviation has increased purchases of upgrades and hence sales.
Star Alliance Takes Customer Apps To The Next Level
Star Alliance provides a platform that links data from the mobile apps of the majority of alliance members. If customers are flying with multiple carriers, they can share their data across multiple apps. It makes the whole process easier for customers and airlines can also know more about their passengers easily.
Air New Zealand Trials Augmented Reality For Cabin Crew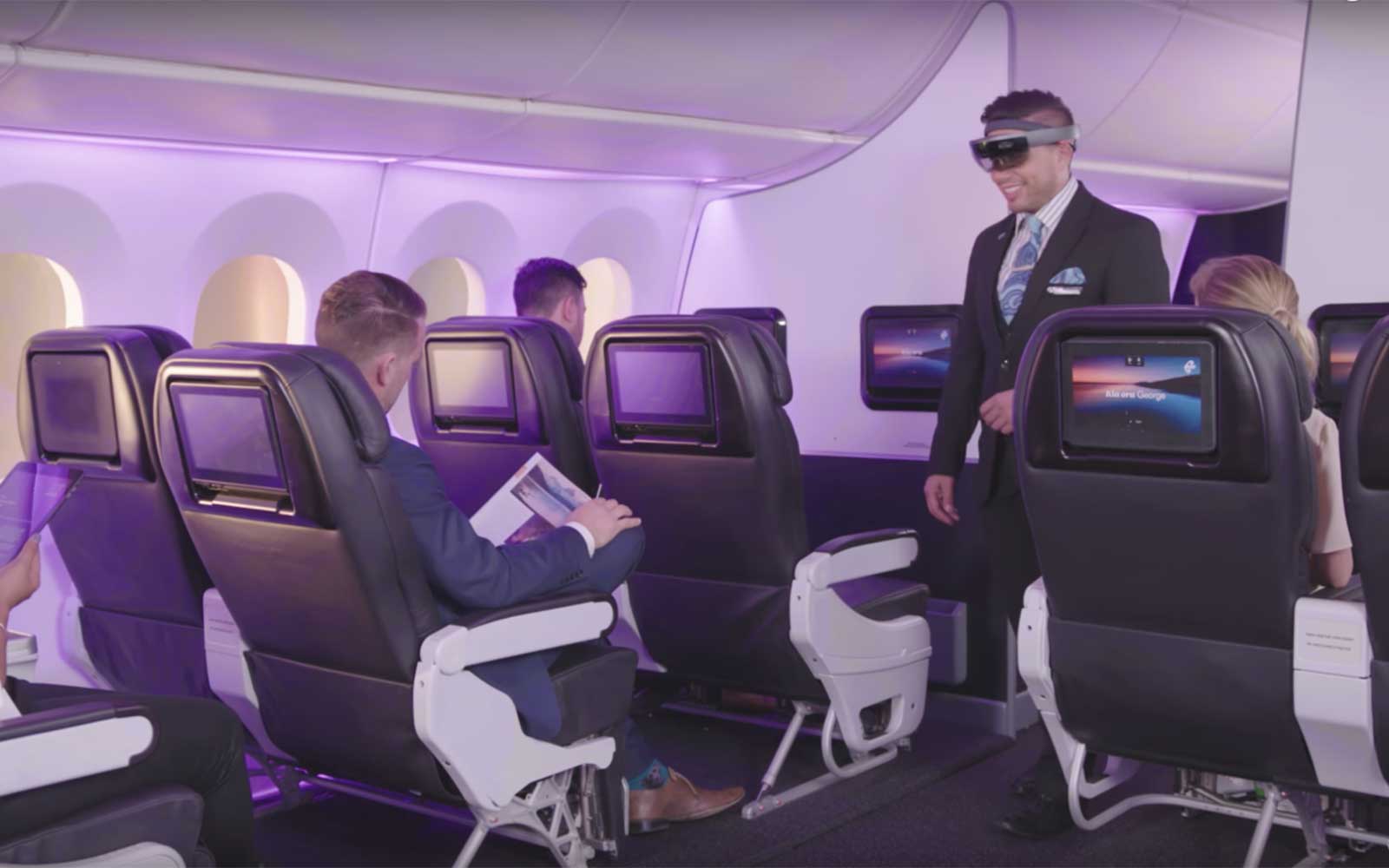 Air New Zealand uses Microsoft HoloLens to know everything they needed to know about a customer just by looking at them. Microsoft's HoloLens is a headset which lays information over objects or people that the wearer is looking at. HoloLens is at a very early stage in air travel right now but it has an enormous scope as it provides a personalized customer experience.
Technology has been playing a vital role in airport operation but currently, there are endless opportunities and a lot of scope for digital transformation in aviation.